Spoiler warning!
This article may contains plot details about the game, anime and other media.
Azusa Mukami


Biographical Information
Kanji
無神 アズサ
Rōmaji
Mukami Azusa
Age
17
Status
Alive
Physical and Vital Statistics
Race
Vampire
Gender
Male
Height
170 cm (5'7")
Weight
50 kg (110 lb)
Blood Type
A
Eye Color
Teal
Hair Color
Black
Professional Status
Occupation
3rd year High School Student
Personal Status
Relatives
Ruki (adoptive brother)
Kou (adoptive brother)
Yuma (adoptive brother)
Hobbies
Polishing his knife collection
Favorite Food
Shichimi Togarashi
Debut
Game
Diabolik Lovers MORE,BLOOD
Voice Actors
Japanese
Daisuke Kishio

Azusa Mukami (無神 アズサ Mukami Azusa) is the fourth and youngest son of the Mukami household.
Appearance
Edit
Azusa has grey colored eyes and dark gray hair with lighter gray tips. The longest point in his hair reaches down to his chin, with long bangs that go right past his eyes. The bangs are parted with one piece in the middle and the rest on the either side of his head. In the back of Azusa's hair, right on his neck, he has his hair cut straight. The rest of it looks messy and curly. 
He has a pale complexion, with a noticeable scar on the bridge of his nose along with one on the lower bottoms of this left cheek and on the back of his neck as well. Azusa usually is wearing a sweater type outfit or his uniform. On both of his arms he wears a bandage wrap, he also has one around his neck. [1]
Personality
Edit
At any rate, he is a clingy, faint-hearted do-S, and a extreme Do-M (masochist). Because he likes being injured, he also loves to be tormented (even resulting to self-harm). Though his manner of speech and attitude are timid, in the end he'll always do what he wants to his heart's content.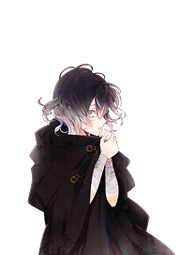 Azusa is a kid wandering around in the streets; he nearly starved to death until he was saved by someone. Still, he feels that his existence in this world has no meaning.
There are three kids - Justin, Melissa and Christina (he named his wounds after these three) who will frequently beat him up for ridiculous reason. But as they beat up Azusa more and more, Azusa starts to laugh - he enjoys the pain, and feels that the pain he's feeling right now is proof that he is alive that his existence has a meaning. It has been noted that Justin, Melissa & Christina are thieves and they frequently steal things.
One day, those three thieves got killed by the noble whom they are trying to rob. Azusa cries; thinking he's going to be alone again because no one is here to beat him up and a police man comes by and tells him that Azusa finally got his revenge. The police man knows that three thieves treats him badly so he thought Azusa would be happy about their deaths.
Azusa wanders on the streets again and faints in front of a shop. The shopkeeper kicks him saying that Azusa is interfering with his business but Azusa laughs and says "Hahaha… kick me more!" The shopkeeper thinks he's disgusting but he brings Azusa to the orphanage. That's how Azusa ended up there.
The other kids tries to converse with him; but it ended up like what Justin, Melissa and Christina do, they beat him up. The situation doesn't change until he meets Yuma. Yuma is the very first person who is kind and nice to him and didn't beat him up. Azusa does not know what he is feeling when he received the bread from Yuma one day but later in his conversation with Yui, we get to know that that's when for the very first time, Azusa saw hope.
When the four are planning escape from the orphanage, Azusa is actually still wavering… until Ruki slapped him, and faints. Since then, Azusa decided to go along with the plan and eventually was shot like the others. When Karlheinz turns him into a vampire, Karlheinz comments that he's a pitiful human. [2]
Relationships
Edit
References
Edit
↑

Diabolik Lovers MORE,BLOOD