Welcome
Welcome to Diabolik Lovers Wiki.


We currently have 33,031 edits to 292 articles and 2,166 images on this wiki.


Navigation

New Pages • Categories • Help
About
Diabolik Lovers (ディアボリックラヴァーズ Diaborikku Ravāzu), abbreviated as DiaLover, is a Japanese visual novel franchise by Rejet
Four games have been released so far with the first two games having been ported for the PlayStation Vita with the subtitle "Limited V Edition". An anime adaptation by Zexcs started airing in Japan on September 16, 2013 and ended on December 9, 2013. An OVA was bundled with the Diabolik Lovers DARK FATE game on February 26th, 2015. The second season of the anime is set to air on September 23 2015. There is also stage-play in production.
Yui Komori is an ordinary high school girl who lived with her father, who is a priest. She was happy with her normal life until one day her father was called off to work and she is not allowed to accompany him. Yui was given a certain address by her father and instructed to go there, saying the people living there are "relatives". Yui follows her father's orders and arrives at a mysterious mansion as the address had suggested. As she discovers what's in the house, she meets the six Sakamaki brothers who don't seem "normal"...
Characters
Poll
How would you rate DARK FATE
DiaLover Websites
「DIABOLIK LOVERS」ポータルサイト (Japanese) Series Portal
DIABOLIK LOVERS (Japanese) Diabolik Lovers ~Haunted Dark Bridal~ Official Website
DIABOLIK LOVERS MORE,BLOOD (Japanese) Diabolik Lovers MORE,BLOOD Official Website
DIABOLIK LOVERS DARK FATE (Japanese) Diabolik Lovers DARK FATE Official Website
DIABOLIK LOVERS VANDEAD CARNIVAL (Japanese) Diabolik Lovers VANDEAD CARNIVAL Official Website
アニメ「DIABOLIK LOVERS」公式サイト (Japanese) Diabolik Lovers Anime Official Website
Featured Image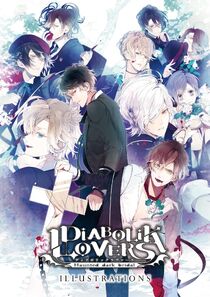 Featured Article
Reiji Sakamaki (逆巻 レイジ Sakamaki Reiji) is the second eldest son of the Sakamaki household and is the younger pure blood brother of Shu Sakamaki.
Reiji is a strict person towards both himself and those around him. He is an arrogant, prideful person who demands perfection and dislikes submitting to weakness. His role in the family combined with his seemingly polite, gentlemanly posture often causes him to appear more like the eldest instead of his older brother Shu.
Along with his passion for experimenting and making potions/drugs, he loves to collect tea sets and kitchenware.
Upcoming Releases
23/9 - BlOODY BOUQUET Vol.6 Reiji Sakamaki
21/10 - Diabolik Lovers VERSUS SONG Requiem (2) Bloody Night Vol.I
BlOODY BOUQUET Vol.7 Shin Tsukinami

Affiliates