Dark
Prologue
When Yui chooses Ruki, he brags that he knew that she will choose him and tells her that he will give her the best discipline. Yui gets confused and asked him what he means. Kou laughs and tells her that it's easy, but Ruki interrupts him and tells him not to say anything unnecessary. Ruki tells Yui to follow the rules of the mansion. If she breaks them, they won't give her mercy even if she is "Eve." Yui thinks that everyone in the Sakamaki household must have forgotten about her by now.
A flashback is shown from Ruki's point of view as a noble child. He is whipping a servant who had destroyed a precious model and asks the servant if death would be a fitting punishment for such a transgression. As the servant cries out in pain, Ruki says that humans are the same as livestock. As the flashback ends, Ruki thinks about how he did not have to face any consequences for his actions then.
Ruki wakes up from the dream breathing heavily. Yui finds him the bathroom looking very sick, and Ruki pulls her roughly toward him and grips her chin. Yui says that she was only peeping since she was worried about him, and Ruki angrily says that if she ever says the word "worry" around him again, he will kill her. Then, he says that it seems like a joke that "Eve" would be such a mediocre woman, and bites her on her neck.
Afterwards, Ruki tells her to get out. As Yui stumbles into the hallway, she meets Kou who realizes that Ruki had sucked her blood roughly and assumes that she had provoked him. Kou asks Yui if she would be willing to let him suck her blood too, but Ruki then interrupts and asks Kou what he was doing. Ruki tells Kou to go back to his room and then picks Yui up. He brings her to his own bedroom and tells her that she will sleep in his room from now on. He warns her that her existence is necessary for his plan, and if she tries to defy him, she will be punished. Lastly, Ruki tells Yui that she shouldn't bother thinking of the Sakamakis, and that she as "Eve" belongs only to him.
No.01
Yui is doing chores in the Mukami mansion, and thinks about how the Mukamis are less forceful than the Sakamakis. However, while she is distracted, she accidentally breaks a jar of sugar cubes, spilling sugar onto Ruki's favorite book. Ruki then comes in and asks what the breaking sound was, telling Yui to explain her situation. Once Yui explains, Ruki says that it was his fault for leaving his book on the table, so he'll let Yui off with only a light punishment. Said punishment turns out to be sweeping the balcony, but while Yui is cleaning, the strong wind closes the door and locks it. Ruki comes to her and Yui asks him to open the door, but he mentions that being trapped by a lattice door is fitting for livestock and leaves. He comes right back when Yui cuts her finger trying to pry open the door. Ruki and Yui then go inside to Yui's bedroom and Ruki licks her cut clean.
No.02
When Yui is in Ruki's bedroom, Kou knocks on the door. When Yui opens it, Kou says that he has a present for her. Yui is confused, and Kou threatens to beat her if she doesn't comply. He places a collar with chains on her neck and attaches handcuffs to the chains. When Yui protests, Kou says that the fun has just begun. Ruki steps in and questions Kou, so Kou leaves. Yui mentions that Ruki was late in coming home today, and Ruki replies that he had some business to finish up, so he's going to take a rest. Before Yui gets the chance to explain to Ruki what happened with Kou, he orders her not to talk unless she has a reason to.
Later, while Ruki reads a book, Yui tries to get his attention, but is ignored. Then, she notices the key to the handcuffs on the table—but the chains aren't long enough for her to reach it. Ruki asks her if she's foolish, trying to reach the key like that, and Yui replies that she didn't want to disturb him. When Yui mentions that she's embarrassed being left in such a state, Ruki says that she should humor him if he is to help. If Yui obeys, Ruki comments that she has finally realized that she is livestock, and then sucks her blood.
No.03
Yui asks Ruki if she can take a bath, and when he says yes, she asks him if he's going to leave. Ruki says that he has more to do and that she may sleep before he returns. Considering that Ruki hadn't eaten at all that day, Yui decides to make him some tomato soup for dinner. She comes back to his room with the soup, but accidentally spills it on his hand. So, Ruki has her lick it off, with the reasoning that she was the one who spilled it and that she shouldn't let food go to waste. He actually tastes the soup himself and comments that it isn't bad. While Yui is licking all over Ruki's magnificent hand, Ruki asks her if she's that interested in it. Yui says that she was thinking that it was the hand of a man, and Ruki sassily asks her if she hadn't become familiar with the qualities of a man back at the Sakamakis' mansion. This flusters Yui, but Ruki tells her to continue licking, and Yui thinks about how licking Ruki's hand had made her body hot.
No.04
Now that Yui has finished cleaning the kitchen and made dinner, she decides to take a bath. Suddenly, Ruki walks in. Yui is understandably flustered, and hurries for her clothes before asking Ruki what he saw. Ruki snidely replies that he only saw the thin body of an average high school student. He goes on to say that since it is the Mukamis' mansion, he can go wherever he wants. If Yui says that it's embarrassing for him to see her like this, Ruki says that he isn't to blame and that he is a tolerant master. Ruki goes behind Yui and comments on how pale and lovely her skin is, telling her to look at herself in the mirror. Ruki strokes some fang marks that remain on her body and notices that they are from the Sakamakis. To erase their marks, he bites her.
No.05
In the garden, Kou and Yui discuss whether or not Ruki is gentle to her. Kou grabs her and checks out the bite marks made by Ruki's fangs, but is interrupted by his cellphone. Kou says Ruki is ordering him to go to the dining room. After Kou leaves, Ruki steps out and remarks that Yui needs looking after. He asks if she has a problem with how he manipulated the situation indirectly, and points out that Yui didn't call for his help. Then he asks if she likes Kou. The rose bushes pricked Yui's back when Kou grabbed her, so Ruki examines the wound and licks her blood.
No.06
Azusa has forced Yui into a pair of painfully tiny shoes and pushes her to stand en pointe. He complements her split toenail, asks if he can name it, and tells her wearing the shoes will give her many more wounds. Ruki intervenes with a reminder that Azusa is not allowed to hurt Yui without permission. Azusa says he only did it because Ruki left her alone, but then asks if Ruki will punish him. Ruki orders Azusa back to his room. After Azusa leaves, Ruki examines Yui's injury. He tells her a story about binding noblewomen's feet so they can't run and mentions doing this to Yui. She protests, but Ruki insists she'll start scheming to escape eventually. After this, he licks her wound.
No.07
Just as Yui thinks about how being locked up a room is tiresome, she discovers a fallen picture frame. The old, blurry photograph shows a couple and a baby. Ruki appears and asks if she's been looking through his things, which she denies, and then tells her to get ready for school. At school, Ruki notices how Yui is happy to be back. Because they attend the same school as the Sakamaki family, Yui worries about their safety. Ruki asks if she thinks she's valuable enough to steal back. Ayato appears, grabs Yui, and orders her back home. Ruki swats Ayato's hand away and says Yui is his possession. They argue, and Ruki says he's disgusted by Ayato's arrogance. Yuma shows up and threatens Ayato, and Ruki leaves the situation to Yuma. Ayato calls out to Yui several times as they walk away, and Ruki tells Yui that he knows the importance of losing something.
No.08
Yui is still allowed to go to school, but she's forced to sit in the third year classroom with Ruki. She's full of thoughts about her situation, how Ayato didn't come to school after their previous encounter, and how Ayato's words implied he was looking for her around town. Ruki orders her to listen to the teacher, then to review her notes, because she'll be punished for a wrong answer. He tells her not to think about disagreeable things, or else he'll punish her in the classroom. The history teacher begins talking about how a country's harsh regime led to orphans living by the road, and Ruki looks sick. Yui inquires about it, but Ruki brushes her off. During the break, Ruki goes to the infirmary, so Yui tries to sneak back to her classroom. Kou, Yuma, and Azusa catch her. Yui lies that she needs to go to the bathroom, and Azusa is sent with her. In the girls' bathroom, Yui thinks about Ayato again before the vampire himself appears. Ayato insists that Yui belongs to him and asks why she left. She asks why he cares, but he turns the conversation around again and asks if she left because the Mukami brothers are better at satisfying her. He bites her. As Ayato sucks her blood, Yui thinks about how she doesn't belong to anyone, but feels guilty letting someone other than Ruki suck her blood, anyway. She shakes Ayato off and flees.
No.09
The Mukami family and Yui are having dinner. Kou comments on Ruki's bout of sickness earlier, but Ruki brushes it off. Ruki tells Yui, who still feels guilty, to come closer. The group discusses how Yui left the classroom and went to the bathroom while Ruki was away. Azusa admits he was distracted by "talking" to Justin while waiting outside. Ruki says its fine, so Yui thinks she's fooled Ruki temporarily. Later, Ruki says he knows what happened and accuses her of throwing herself at Ayato. He explains that if she had been honest, he might have forgiven her a little, but instead she'll be punished. Then Ruki orders her to show him the bite mark, citing shame as part of the punishment. Ruki looks her over and bites her stomach, to "carve" the pain into her, before he bites the place on her neck where Ayato sucked her blood. Ruki tells her to behave honorably from now on.
No.10
Yui wakes up to Ruki having a nightmare. He calls for his parents in his sleep, and Yui looks at his family photo again. He wakes up and tells her to go back to sleep. As she's lying in bed, Ruki asks about her father. When she says she doesn't hate her father and suggests he made a mistake by sending her to the Sakamaki family, Ruki tells her that the clergy are particularly untrustworthy. He explains how some people hide behind masks and hurt children, and questions how she can believe in her father. As they argue, Yui says her father loves her, which makes Ruki laugh. Yui also argues her father is probably busy with his work in another country. Ruki points out that she's averting her eyes and bites her. Ruki mocks her and tells her she's been betrayed. Then he says her pain comes from her humanity, and that she can escape it if she stops being human. Ruki sincerely tells her they're just alike.
Epilogue
In the past, a young Ruki wakes up to a strangely quiet mansion. No one comes when he rings the bell, and when he investigates, he finds the servants ransacking the place. The servants inform him about how his family's wealth and assets have disappeared. His father is gone and his mother has run off with another man. As proof, they show him a letter from his mother; in it, she tells Ruki she loves him, and he questions why she'd write that before abandoning him. The servants mock him before beating him in revenge. The injured Ruki finds his father's corpse outside, hanged by Ruki's own whip and surrounded by crows. In the present, Ruki thinks about how all that's left of his family is a photograph.
While Yui makes dinner, she thinks about how Ruki has been behaving strangely since their conversation about her father. She wonders if Ruki hates priests, or if he had another reason for his words. She recalls how he asked why her father didn't come for her if he loved her. Kou interrupts her thoughts by nibbling on the unfinished food, and tells her how Ayato is still frantically looking for Yui. Yui feels slightly happy, even though she knows very well that Ayato is only desperate for her blood. Ruki interrupts to tell Kou to stop talking and to sit down and wait for the meal. Suddenly Ruki bites Yui. She wonders what's wrong with Ruki, and he says he wants to drink more than Ayato and emphasizes that Yui belongs only to him. A flashback shows a young Yui with her father. Yui finds a four-leaf clover, and her father explains it's the symbol of love, hope, faith, and good fortune. Yui refuses to pick it, because she's happy with her father.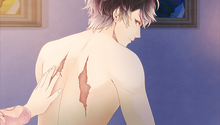 Yui wakes up and hears a voice that she initially thinks sounds like her father's, before she realizes it's Ruki talking to someone. "Eve" and "Adam" are mentioned. She realizes she fainted in the kitchen and Ruki must have carried her to bed. She catches sight of Ruki sitting in bed without a shirt, and reaches out to touch the terrible scars on his back without thinking. She tries to ask about it, but he just brushes off her sympathy. He tells her to be more careful, because Kou and the others whine when they don't get to eat. Then he sucks her blood. He says it's not enough for "Adam" yet, and he needs her. 
Maniac
Prologue
In the past, Ruki stayed in the abandoned mansion for a while before leaving. As he left, he noticed his father's body disappeared and the crows had vanished.
In the present, Ruki on the balcony tells the birds he won't feed them, because they cause misfortune. He tells them to use their wings to fly free. Yui wakes up, and Ruki points out it's almost night. She says vampires are nocturnal, but Ruki explains he was originally human, so day or night is fine for him. He explains how lying to her would be a waste of time and effort. He also tells her that he's not human anymore, so she shouldn't expect him to be gentle. Ruki admits he has a grudge against humanity for the way they think love is a right, and calls Yui an idiot for struggling to be loved. She protests, but he brings up her father again.
Yui winces at his rough treatment as Ruki calls love a form of extortion, which he dislikes. He also says it's a problem that Ayato values her, because Yui is only valuable because of her blood. Ruki bites her and sucks. He notices how upset Yui looks and asks her if she thinks she's worth more. Ruki calls her stupid but human, and then tells her she should present her blood, because it's the only way she'll be loved by him. Yui says she doesn't care whether she's liked by Ruki. He replies that means he doesn't have to be gentle, and tells her he has no choice if she wants to be treated that way. Ruki thinks livestock's only right is to help a master, and calls for more of her valuable blood.
No.01
Yui is cleaning when she suddenly smells something good. She investigates and passes out after finding a strange bottle. When she wakes, Ruki chastises her for sleeping during her work. Then he chuckles over how the smell lured her in. To demonstrate the full effects, he licks her neck, which Yui feels unusually strongly. He praises her, but also reminds her not to forget her role as livestock. Then he sucks her blood. Ruki tells her to give in to his authority, and to love it and forget about everything in the pleasure he allows her.
No.02
Yui returns to her own bedroom for the first time in a while, since she's still sleeping in Ruki's room. Ruki knocks on the door and asks if she's seen Kou. After an awkward moment, Yui sits down. Ruki tells her Kou could be hiding in this room, and then reminds her everything in the Mukami's house is under his watch. He emphasizes how she doesn't have the right to refuse if Ruki wants to enter her room. Then Ruki asks her if she's being defiant by sitting while her master stands, and transfers her to his lap. As he holds her, his breath tickles her ear and makes her feel weak.
He asks what's wrong with his actions as her master, and points out how she's reacting. Yui denies it, but Ruki tells her to be quiet before biting her. Yui can't resist, and her thoughts turn to Ruki and his view of humanity. Ruki tells her not to think too much and praises how she seems to be entrusting him with everything. Yui knows Ruki might see her as useless, but she can't help worrying about what he thinks.
No.03
On their day off, Yui meets Azusa in the hall. She notices how worn out he looks. He asks if she's been to the garden, and Yui explains she went out because the weather was good. She points out they haven't spoken in a long time, and Azusa explains she belongs to Ruki, so he'll be scolded if he touches her. Yui thinks about how everyone in the household obeys Ruki, and feels envious of their closeness. The conversation turns to a knife Azusa thinks he must have lost in the basement. Yui asks for a description, and he describes it as silver with an ivory handle. He leaves after telling Christina and Justin to be patient about getting new friends. Yui thinks Azusa is still mysterious, but decides if the knife is important, she will look for it.
Yui finds an underground pool and sees the knife is down there. Yui underestimates the depth and nearly drowns. She is saved by Ruki, who embraces her tightly. When questioned, Yui tells him about helping Azusa. Ruki scolds her about being too good-natured and for not thinking. Then he says that he'll never allow her to die as her master. Ruki intends to go reprimand whoever put the knife in the pool for endangering his idiotic livestock, before he notices Yui is shivering. He presses his lips to her neck, and tells her she can return to the room to receive punishment and warm her up.
No.04

Ruki's not in his room when Yui comes to get him for dinner. She knocks over books and notices he has a magazine for younger boys, which surprises her. Ruki appears and asks her what she's doing. He decides to punish her for snooping and ties her up before he sucks her blood. He comments on the scars left by the Sakamakis and calls them vulgar and hideous. He bites her and tells her to look only at him, and brand his eyes into her memory as the one who controls her.
No.05
Yui polishes silverware in the dining room and thinks about how the Mukami household is run differently from the Sakamaki house. Ruki appears and tells her she's done well before he decides to use some of the silverware on her. She begs him not to and points out how they're in the dining room. They hear a sound outside the room and Yui begins to cry when Ruki "polishes" the knife by cutting her clothes. He tells her to cry more, wonders about what voice she'll use and if she'll feel it. He bites her chest and sucks her blood. Ruki says nobody else knows, so she should show her shameful expression only to him.
No.06
Yui wakes up early and encounters Yuma on his way to bed. Yuma says he can't sleep on an empty stomach, and surprises Yui by asking her to cook something. She offers to make pancakes with raspberry jam and whipped cream, which he likes because it sounds sweet. She finds Ruki in the kitchen and asks for permission to use it to make pancakes for Yuma. Ruki lingers in the kitchen as she works, and Yui deduces that he's angry.
Ruki explains that they live in the same house, so she's naturally allowed to come into contact with his brothers, but she shouldn't forget that Ruki is her master. She should prioritize him and show respect. He tells her not to take their words seriously and to ask for his permission before she does something for them. Then he asks if she's trying to flatter the others. She denies it, and he prompts her to answer if she is his livestock. When she says yes, he calls her a good girl. Ruki's mood improves, but then he says he's hungry, so he pins her down. As he drinks her blood, Ruki reminds her to obey only him.
No.07
Yui faints in class, and Ruki takes her to the infirmary. He walks too quickly, and Yui asks him to hold her hand. She points out he's going to monitor her either way. Ruki says he dislikes the way she thinks and that he doesn't think she's asking for a favor in the right way. He decides it's for the best and comments that it's not bad for him to take his livestock for a stroll. He tells her he'll pick her up later without seeing her into the infirmary himself, which Yui finds surprising. In the infirmary, she speaks with Rainhart, who gives her an "herbal tea" for her anemia. Some of his comments about human cruelty make Yui think he's reciting a proverb, and Rainhart elusively replies that he's forgotten who the words belong to.
Reiji appears and comments on the carefree atmosphere. Reiji explains he has a headache, and Rainhart gets him some medicine. Yui asks if Reiji is okay, and he replies that he hasn't had much time to rest since Ayato has been throwing tantrums. He explains how they had to lock him in the dungeon the other day due to his violent and bloodthirsty behavior. Reiji doesn't care if she returns to the Sakamaki family, but tells her to come by to give blood on occasion or their house could collapse. Rainhart returns with medication and Reiji excuses himself.
Shortly after, Ruki appears to take Yui out early. He tells her he knows she met with another Sakamaki, but since her blood wasn't sucked, she doesn't need to be punished. Then he changes his mind, and says he won't lend his hand anymore as a punishment. Yui feels better and wonders if the school doctor's tea helped. Yui thinks about how she knows her place with the Sakamakis is just bait, but she doesn't understand Ruki, who sometimes treats her gently.
No.08
Ruki and Yui walk home from school for a change, because Yuma and Kou were annoying Ruki. On the way, they find an abandoned kitten in a box. Ruki doesn't stop her when Yui picks it up. She takes it back with her, but when she goes to bring the cat some warm milk, she finds Ruki standing near it. He took the kitten's soul, and tells Yui to be relieved because it isn't suffering anymore. She asks why he did it, and in response, Ruki asks her if she thinks the cat could be happy without freedom, and to recall how the cat was hardly breathing. Yui realizes it's pointless to argue with Ruki and picks up the dead kitten before leaving.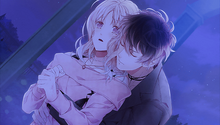 She buries the kitten and silently apologizes for ever picking it up. Ruki embraces her from behind and asks why she's crying. He asks if she was in the same situation of suffering, unable to die, and without freedom, would she want to live? Yui doesn't understand, but she thinks there's always hope if you're still alive. Ruki wonders if she thinks this because she's Eve, and cuts himself off from saying anything else. He tells her to remain as she is, because it's better if she doesn't know.
No.09
Yui contemplates what Ruki meant by calling her "Eve" and admits she doesn't understand the reasons for his actions. Kou arrives and asks why she's still awake. Yui admits she couldn't sleep, and when she confides in Kou about not understanding Ruki, he says that sounds accurate. He doesn't know Ruki well, either; when she expresses surprise, Kou tells Yui that the Mukami brothers aren't related. He shares a little about Ruki's past as an aristocrat and makes Yui promise not to tell. Since he's risking trouble with Ruki, he asks for a reward (her blood). Ruki intervenes before Kou can get very far. He sends Kou away, and Yui observes Ruki is far harsher with Ayato than Kou.
Ruki points out that she could've avoided Kou by returning to his room, and then guesses the cat he killed is source of her hesitation. He says she should be relieved that he won't kill her. Yui doesn't understand why he would. Ruki says she's like the cat before cutting himself off and announcing that he's going to bed. Yui comments that Kou is friendly, but Ruki is harsh to her, which makes Ruki reply that she's livestock, and that they are his brothers. As she follows, Yui wonders about the circumstances that made them into a family.
No.10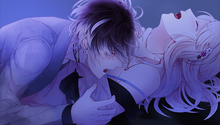 Ruki has another nightmare, and clutches Yui's hand in his sleep. She keeps watch over him until Ruki wakes up and attacks her. He realizes who she is after tasting her blood. He demands to know if she touched him while he slept. When she tells him about the nightmare, Ruki tells her not to do unnecessary things, and says the story Kou shared with her was a lie. He picks Yui up and dumps her in the hallway, commanding her to sleep in her own room from now on. Once alone, Ruki says that it's too late for him to be saved.
In the hallway, Azusa is attracted by the scent of Yui's blood. He notices she's been strangled by Ruki, and asks how it happened. She tells Azusa about the dream, and Azusa explains that Ruki must not have forgotten the pain from his days as a human. Azusa tells Yui about how they all suffered and that they can't forget. He helps Yui walk to her room. As they leave, Yui compares Ruki's shut bedroom door to his unopened heart.
Epilogue
In the past, Ruki wandered around the town looking for food and observing how people struggled on the streets. He saw a young Yuma and his gang friends stealing a single apple, and scorns the shopkeeper for chasing after them so desperately. He received a single gold coin from a nobleman who once begged Ruki and his family for money. Ruki once mocked the man, but the money he gave saved the man's house. The nobleman said he's repaying the favor and pitied Ruki. Ruki thought it was a punishment to be looked down upon. He tossed the coin into a river, which made a poor girl chase after it even though the water was freezing. He yelled at her that she would freeze to death, but she didn't care because the money he discarded could fill her stomach.
Ruki reflected upon these events, and he couldn't believe how desperate she was, or that he did such a thing to another human being. He wondered what value there could be in living on in a world that despised him, and concluded there isn't anything left. The scene changes, and Ruki said his legs can't move. He wondered if he was waiting to die, called the world cruel and the people vulgar, and decided he didn't want to die. In a monologue, Ruki stated that the blue sky was clear regardless of everything else happening. It gave Ruki a sense of calm. Then he wished he could be reborn.
In the present, Ruki says his wish came true, because he was reborn as a vampire, and that the skies remain as blue as ever. There are birds on the balcony, and he says he won't give them food. Then he tells the birds that they're lucky, because their wings let them fly free. In the garden, Yui catches sight of Ruki on the balcony. She notices the birds, and thinks about how Ruki doesn't seem like a vampire at all. She calls his face gentle, but that he won't show it to her. She says Ruki hasn't come out of his room since the night he tossed her out. Yui understands that Ruki does not want her sympathy, but she can't help but feel concerned over his nightmares. She wants to understand Ruki.
Ecstasy
Prologue
No.01
No.02
No.03
No.04
No.05
No.06
No.07
No.08
Yui is in the dungeon wondering how long she'll be confined there, until her thoughts are interrupted by Reinhart (a.k.a Karlheinz). Reinhart comments on Yui's state and offers her a rose telling her to touch it, explaining that it's for future reference. Yui touches the rose and she blanks out. She sees a flashback of Ruki getting branded after his failed attempt to escape the orphanage. Yui later wakes up to find herself face-to-face with Ruki, and Reinhart is nowhere to be seen. She questions Ruki about Reinhart, but Ruki tells her that she must be half-asleep until Yui spots the rose Reinhart had given her earlier. She asks Ruki about the brand marks on his back and asks if he got branded. She questions him about whether her confinement is making him suffer, because he had been confined before and asks him to let her out of a dungeon, promising not to run away once taken out. Ruki reluctantly agrees to release her, but on one condition; she is only allowed to be in his room.
In Ruki's room, Ruki doesn't say anything causing Yui to wonder if her actions were selfish a while ago. There is a loud thumping noise which causes Ruki to panic and he tells Yui to return to the dungeon. Ayato appears out of the blue and calls Yui an idiot. He punches Ruki and informs Yui that he has come to take her back. Yui refuses to return with him and tries to help Ruki, but Ayato kicks him and forcibly drags her to the balcony where he flings her onto his shoulders and is just about to fly off, but is stopped by Ruki who grabs Yui's hand telling him to wait. Ruki tells Ayato that he can take Yui if he really wants to, but before that, he wants to hear Ayato's reason for doing this. He asks Ayato what he thinks of Yui; did he come all the way here because he loves her? Or was it just to get his food back? Ayato immediately replies that her blood is only delicious and hearing this, Ruki declares that he won't hand Yui over to him and orders him to leave without her. Ayato gets irritated and kicks Ruki, then sets the Mukami mansion on fire and flies off with Yui.
No.09
Yui is back at the Sakamaki mansion, while the Sakamaki's comment on how Ayato had abducted her back and that they are relieved that the Mukami's had supposedly vanquished in the fire. They also tell Yui to see the Mukami's 'deaths' as her revenge for locking her up and treating her like a prisoner. Ayato is desperate to suck her blood, but Reiji snaps at him to refrain himself and tells Yui to rest in her room for now. He also assures Yui that they won't lock her up like the Mukami's did and they will allow her to attend school normally when her health is fully recovered. She then returns to her room commenting on how long it had been since she had been there, but finds herself unhappy.
No.10
Yui can now only think of Ruki and wonders if he is alright. Her thoughts are interrupted by the doorbell and she answers it, surprised to find Reinhart (a.k.a Karlheinz). She invites him in and prepares him some tea, as he comments on how surprised he is that she is living with the Sakamaki's. Yui explains that her father is overseas at work and that she is staying here for the meantime. Reinhart teases Yui a bit by asking if this house is her boyfriend's, then proceeds to explain that at the age of a high school student, they would be thinking about 'love' and questions her about those feelings. Yui replies that she doesn't know and Reinhart assures her that she doesn't have to decide right now and wonders out aloud whether "Eve" will really choose an "Adam". Yui perks up when she hears this, but Reinhart quickly makes an 'excuse' by apologizing for taking up too much of her time and thanks her for the tea before leaving.
Later that day, the Sakamaki's inform Yui that the they haven't seen any of the Mukami's and that she can go back to school starting from tomorrow. Yui is grateful that the Sakamaki's are concerned for her in their own ways, but is still upset. She later takes a stroll in the garden that evening and comments on how cold it is. Her chest stings as she hopes that Ruki didn't perish in the fire the last time she saw him. All Yui wants for Ruki is to be alive and she wonders if she can call this 'love', or she just feels sorry for him. Her thoughts are interrupted when Ruki suddenly appears in the garden.
Epilogue
Left off from No. 10, Ruki appears in the garden and Yui is happy to see him again, but Ruki warns her not to raise her voice, or otherwise he would be discovered. Yui expresses her relief that he is safe and sound while Ruki comments on how the Sakamaki's are carefree as ever, reminding him of the day when he and his brothers kidnapped her. Ruki reminds Yui that he had called her livestock and imprisoned her, and if he were her, he would hate the people who did those to him. Yui argues against this and tells Ruki it was true she had a terrible time with him, but despite how he had tormented her, there were times when he treated her kindly. Ruki scoffs and tells Yui that he only showed her his kindness as an outward appearance in order to make the "Adam and Eve" plan a success.
A flashback is seen where Ruki, Kou, Yuma and Azusa are discussing their escape plans from the orphanage; Ruki will cause a commotion while Kou will create a distraction by setting the prison guard's room on fire. The scene then changes to the woods where the Mukami's are running as fast as they could while celebrating their escape, but it is short-lived when gunshots are heard. Kou and Yuma collapse from the gunshots, forcing Ruki and Azusa to continue without them, but they too are shot. They are brought back to the orphanage where the Facility Director punishes Ruki by branding him on the back two times while calling him livestock and that he is a prisoner in the orphanage forever until he perishes. As Ruki lies dying in the punishment cell, he wonders if Kou, Yuma and Azusa are alright, but his thoughts are interrupted by Karlheinz, who appears before him. He asks Ruki if he would like an eternal life as a vampire, and convinces him that as a vampire, he can get revenge on those who abused him and deprived him of everything. Hearing this, Ruki immediately accepts the offer.
The flashback ends and Ruki explains to Yui that he, Kou, Yuma and Azusa became vampires, for they each had a reason to live again (Ruki; to get revenge on being deprived of everything, Kou; in order to see the blue sky, Yuma; to fulfill his gang boss's dream, and Azusa; to feel pain again). Because Karlheinz gave them another chance at life, they had been very indebted towards him and therefore, wanted to return his favour by fulfilling his "Adam and Eve" plan. He also remembers how Karlheinz only tutored him after being turned into a vampire, mainly because he was a former aristocrat. He finally tells Yui the origins of Karlheinz's "Eve"; a human girl with human blood fused with the heart of a Demon Lord's daughter, Cordelia. Ruki admits that he's now realised it's impossible for him to become "Adam" and tells her with this said, she is 'released'. He encourages Yui to become "Eve" for one of the Sakamaki's, since they are more suitable candidates to be "Adam" because they are purebloods, and just as he is about to leave, Yui stops him.
She asks him why he came all the way to see her, and he replies that he only sees her as a tool. Yui protests that it's a lie; no matter how hard he tries to cover it up, she knows that deep down inside, he is truly a kind person, claiming that his brand marks look like angel wings. Hearing this, Ruki scoffs and tells Yui to look at his fangs; an angel doesn't have them, but a devil does. He continues saying that rather than angel wings, his brand marks are devil wings, and they remind him of how he had looked down on people and that they are his punishment. He tells Yui instead of him, she is the angel, and again, tells her to become "Eve" with one of the Sakamaki's then says that instead of an angel, she is a 'goddess'. Ruki bids her farewell and suddenly disappears, leaving Yui in tears, believing she would never be able to see him again. By this time, Yui has realized that she has fallen in love with Ruki.
Ending
No.01 - Vampire Ending
Yui wakes up in the infirmary after school and is greeted by Reinhart (a.k.a Karlheinz). Reinhart explains that she passed out due to her anemia while at school and had been brought to the infirmary, while commenting that she had slept well. The Sakamaki's had already gone home without her and Reinhart offers to drive her back, but Yui politely declines. They then have a heart-to-heart talk about love because Yui still doesn't know much about "true love". After the talk, Reinhart suggests to Yui to go to the school roof, telling her to watch the sunrise and that she would find what she wants. Yui takes Reinhart's advice and leaves to go to the roof. After she is gone, Reinhart comments on how he looks forward to the children of "Adam and Eve". Yui arrives on the roof and admires the sunrise, but is still a little disappointed that she wasn't able to get her feelings through Ruki.
She asks herself; if she were a vampire just like him, would she have understood him better? Her thoughts are interrupted by Ruki who suddenly appears and he answers her question by reminding her that she is 'Livestock'. He goes on and explains that he originally intended to allow Ayato to take her away since he couldn't become "Adam" and now he regrets letting go of her. Ruki then tells Yui that he always had a grudge against humans (despite being one himself previously), but had never thought he would fall in love with one. Ruki tells her that he never wants to be apart from her again and he'll betray Karlheinz in order to be with her. He continues saying instead of "Adam", he is the "snake who tempted Eve" and asks if her mind has become corrupt. She happily replies with a 'yes' and they reaffirm their love with a kiss as the sun rises behind them. Ruki tells Yui to come with him and when she agrees, he carries her and they fly off into the morning lit sky. As Ruki ascends into the sky, Yui describes Ruki's brand marks like wings of an angel.
No.02 - Manservant Ending
At school, Yui can't help thinking about her conversation with Ruki and had not seen him since then. Her thoughts are interrupted by Ayato, who orders her to let him suck her blood. Ever since Yui had returned to the Sakamaki household, she had refused to let any of the Sakamaki's drink her blood. Yui refuses again and informs Ayato that the teacher has arrived, so he can suck her blood afterwards. Ayato scoffs and agrees to refrain himself for now, then tells her to wake him up when the lesson is over. As class commences, Yui is still thinking about Ruki until one of her classmates screams and collapses. Yui is surprised by this before noticing that her other classmates, including the teacher are collapsing one after the other. In an instant, the classroom is stained with blood and Yui finds herself getting petrified. She frantically shakes Ayato in an attempt to wake him up, until she notices that he too is covered in blood and he collapses just like her classmates. Yui panics and wonders what is happening, until Ruki appears and in a broken whisper, he tells her that he has come for her, while addressing her as "Eve".
Yui jumps back in fright when she sees Ruki and notices that he is holding a knife stained in blood. Ruki happily admits that he murdered everyone in her classroom, claiming that they were in his way. Yui is terrified of the current Ruki and is lost with words as he explains that he wants to make her his while continuing his revenge on the world. As he holds her in his arms, Ruki tells Yui that they'll never be apart anymore, but is interrupted by Reinhart (a.k.a Karlheinz), who appears, telling him that he was a 'human' all along. Thinking Reinhart is trying to prevent them from being together, Ruki declares that he is a 'vampire' then grabs Yui and jumps out the window. There is a loud thud and Reinhart tells Ruki that he is a miserable and pitiful human. Outside, Ruki and Yui are lying on the school grounds, bloodied and dying in each other's arms. Yui asks Ruki if 'this' was what he wanted to achieve all this time. He replies saying; if he stays in a world where it is impossible for him to obtain anything, he'll go back to Hell, and he took her along with him so he could be happy. Still in love with Ruki, Yui tells him if this is what he wants; she will go anywhere with him, even to Hell. Hearing this, Ruki dies while happily declaring that he finally obtained his "Eve". Yui then dies while telling herself that she can peacefully sleep now and in her final breath, she wishes Ruki 'sweet dreams'.
No.03 - Brute Ending
Yui wakes up in her room at the Sakamaki household still thinking about Ruki and how long it had been since she last saw him. She notices that the house is unusually quiet and decides to investigate. As she goes down the hallway, she wonders if anyone is up already until the door creaks open and Ruki appears, covered in blood. Yui frantically asks Ruki if he's injured himself, but he replies that it isn't his blood. Hearing this, it takes time for Yui to slowly realise that he has murdered all the Sakamaki's. Ruki explains that he envies the Sakamaki's for being purebloods, as well as more suitable candidates to become "Adam", and vows to destroy everything Karlheinz finds important to him, including Yui. He also comments on how he didn't expect murdering the Sakamaki's would be that easy. Ruki then takes Yui into the Sakamaki dungeon where he confines her just like he did when she was still living with him. Yui then finally understood why Ruki killed everyone; his freedom had been deprived and he is still suffering from it.
Several days later, Ruki comments that Yui has grown extremely thin and notices that the shackles don't fit around her wrists anymore. Yui asks Ruki if he wants to suck her blood, but he replies that he doesn't want her blood anymore nor has a reason to have it. He then asks her if she has broken, but Yui weakly laughs and replies that maybe Ruki is the one who is broken. Ruki tells her that they are both broken, but they haven't lost their sanity then comments that her neck is thin and she is in a poorly state, before wondering whether he really has killed her. Yui then wishes Ruki good night and vice-versa. Some time later, Reinhart appears in the dungeon and comments that he is just seeing 'living corpses' before setting the dungeon on fire, burning both Ruki and Yui's bodies. Reinhart transforms back into Karlheinz and tells Ruki that he is disappointed with him.
Heaven
No.01
No.02
No.03
Chapter 1
Chapter 2
Chapter 3
Chapter 4
Sleeping Vampire
Dark
Prologue
No.01
No.02
No.03
No.04
No.05
No.06
No.07
No.08
Yui is wandering through the hallway not wanting to return to Ruki's bedroom. Her thoughts are interrupted by Shin who comments on her expressions and he asks her if something happened. Yui replies that she doesn't want to go to Ruki's room for a number of reasons, so Shin takes her outside. Shin takes Yui into the city streets and when she asks why, he tells her that she just said she didn't want to go to Ruki's room, so it's okay if she goes outside. He then asks her if she prefers to be confined, but Yui denies this and says that she never expected to go out up until now. Shin explains that being confined for a long time can get painful and he reminds Yui that he won't show her any mercy if she tries to escape. He then says he understands and explains that he was confined before after the First Bloods were defeated. This makes Yui a bit curious, since Ruki had explained this before and she wonders why the Tsukinami brothers are here. Shin sees through her expressions and he tells her that she has the right to know, so he takes her to the park to so she could hear it out more properly.
At the park, Shin asks Yui what she knows about the First Bloods so far. Yui explains that she was told that the First Bloods draw the bloods of the four clans of the Demon World. Shin says she's right and tells her that the four clans consist of bat, eagle, snake and wolf, and the vampire who has the blood of all the four clans is a First Blood. He also says that the First Bloods can be referred as the 'originators', and that his brother, Carla is the current 'King'. Yui is surprised by this, and Shin explains that his father was originally the King, but he died, which confuses Yui, knowing that vampires are immortal. Shin explains that there is a disease called 'Endzeit' which only affects First Blood vampires - there is no cure for that disease and once affected by it, all you could do is wait for death. He says that the disease has affected most of the First Bloods, and only he and Carla survived the Endzeit epidemic. Shin tells Yui that in order to revive the First Bloods, they need her blood. He tells her that her blood is special and if they don't obtain it, the First Bloods will perish.
Shin suddenly tells Yui that he knows she likes Ruki which makes her embarrassed. They eventually return to the Tsukinami mansion and Yui thanks Shin for today. Shin says it's good and reveals to Yui that deep down inside, he is scared almost everyday. He fears that one day, he too, will be affected by the Endzeit. Shin suddenly asks Yui if he can suck her blood, saying that if he takes a bit of her blood, he might feel a bit better. Being the kind person she is, Yui agrees and tells him that he can only have a bit. Shin thanks Yui and bites her. Unbeknownst to Yui, Ruki is watching them through the window from his room and he finds himself getting rather irritated. He growls on how he had thought it was strange that Yui didn't show up and kicks something to vent out his frustration. Back outside, Yui tells Shin to stop sucking her blood and he thanks her, telling Yui that she is very kind. Shin agrees to take Yui back to her room to show her his gratitude. As Yui is being led by Shin, she starts to feel a bit of regret, since she had allowed another vampire besides Ruki to suck her blood.
No.09
Yui is in her room reflecting on what she had discussed with Shin today. She decides not to give any more of her blood today, fearing that Ruki would find out. Yui suddenly remembers that Ruki had told her he didn't need her anymore, so he wouldn't care if she had her blood sucked by another vampire. She finds her mood has gone worse even after going outside, then decides to go and see the other Mukami's. Meanwhile, Shin is in the bathroom throwing up. He comments on how Yui's blood tasted disgusting and blames the other vampires for tainting it. Shin then says that he has to purify it quickly in order to make it his and he apologises to his brother by saying that he will be the one to save the blood of the Founders. In the dungeon, Yui thanks the other Mukami's for last time (see Dark 07) and serves them some pasta she cooked. Kou gets excited, but it quickly dies down when he and his brothers catch a scent coming from Yui. Seeing their surprised expressions, Yui gets confused and asks them if something is wrong. Yuma asks Yui if something happened, but Azusa brushes it off by complimenting the smell of Yui's pasta. Kou awkwardly agrees with Azusa and tells them to start eating, leaving Yui puzzled.
Sometime later, in the hallway, Yui wonders why the other Mukami's were acting weirdly, but is relieved that they weren't mad at her for being late for the food. Her thoughts are interrupted when she spots Ruki in the hallway, and he asks her where she's been. Yui replies that she only went to see his brothers, and just before she could ask him why he is here, he cuts her off by asking if she had her blood sucked. When Yui gets confused, Ruki asks her again if she had her blood sucked by 'those guys'. Thinking he's referring to his brothers, Yui assures him that she wasn't sucked by them, but Ruki starts shouting that he wasn't talking about his brothers; he's talking about the First Bloods. He demands an answer from her, but Yui tells him he told her that he didn't need her anymore, so what is he getting angry for. Ruki's irritation reaches a boiling point and he orders Yui to come with him. He grabs Yui and drags her to his room where he undoes her clothes while pushing her down on the bed.
Yui asks him what he plans on doing, but Ruki tells her she should be thankful to have been pushed down onto the bed and not the floor. He continues to say that he hasn't disciplined her enough so he's going to retrain her by using his fangs onto her body and he bites her. Yui screams that it hurts, but Ruki tells her that he's purposely making it hurt, because she doesn't understand things verbally. While Ruki is sucking her blood, Yui finds herself unable to resist since Ruki is pinning her down so strongly. She knows that Ruki isn't being himself and feels that they are drifting further and further away from each other.
No.10
Left of from No. 9, Ruki is still sucking Yui's blood, and in her mind, she could feel his fangs digging into her rapidly and deeper. She can't think nor do anything. Ruki soon stops and asks her why she isn't resisting. When Yui gets confused, Ruki says that it's just as he had thought; she was craving for his fangs. He reminds her that she's been near him this whole time and was always worrying about him, and all that was because she wanted him to suck her blood. Yui denies this in her mind and Ruki shouts at her to give him an answer. Yui notices that Ruki's eyes are doubting her and she clearly denies his accusations, but he brushes off her denial and continues to accuse her. Ruki then tells Yui that if she really wants him to suck her blood so badly, then he'll gladly do it. He'll suck her to her heart's content with his fangs.
He grabs her by the neck and starts squeezing it. Yui screams that it hurts, but Ruki tells her that she was so desperate to have her blood sucked that she went to Shin. He tells her that she should only plead for his fangs and asks if she wants him to make it clear so she can't use her voice anymore. Yui screams at Ruki to stop and ends up slapping him across his cheek which startles him. She then flees from the room, leaving Ruki alone to reflect on his actions. He sighs that he hurt her again and he knows very well that Yui isn't the kind of woman to do something like that. Ruki is also aware that he is unable to become "Adam" and the First Bloods are more suitable candidates since they have the blood of all the clans.
Ruki finds himself unable to "accept" that he can't become "Adam" and sighs that he's so full of himself. He then says that Yui isn't the one who is foolish to be by his side, he is. Meanwhile, Yui still can't help thinking about how she had slapped Ruki and finds herself remembering his eyes which had doubted her.
Epilogue
Maniac
Prologue
No.01
No.02
No.03
No.04
No.05
No.06
No.07
No.08
No.09
No.10
Epilogue
Ecstasy
Prologue
No.01
No.02
No.03
No.04
No.05
No.06
No.07
No.08
No.09
No.10
Epilogue
Ending
No.01 - Vampire Ending
No.02 - Manservant Ending
No.03 - Brute Ending
Left off from the Epilogue, Ruki decides to remain with Yui and they return to the Mukami household in the human world while Ruki's brothers go back with Karlheinz to the Demon World. Yui is on the balcony musing over how Ruki chose to live with her despite having misfortunes for the rest of his life, but her thoughts are interrupted when Ruki calls out to her. Ruki joins Yui on the balcony and he asks her about her health. Yui replies that she's feeling fine now and Ruki starts to kiss her; telling her that even if he will come across many misfortunes, he is happy to be able to touch her like this. There is a time skip and Yui is in the bathroom washing up and feeling rather sluggish. Kou enters the bathroom having had been told by Ruki to check up on her and he asks Yui if she is alright, since she had been in there for a long time. Yui apologises to Kou for feeling unwell since they came all the way here just to visit them, but Kou brushes it off and comments on how bad her complexion is. Yui thinks that she might have gotten sick again, but her thoughts are interrupted when Kou suddenly asks her, 'Could you possibly be...'. Before Kou could finish his question, Ruki barges in and asks him about Yui's health, but Kou starts laughing which confuses him. Kou asks Ruki if this is one of his misfortunes and he tells Yui to discuss this properly with him then leaves the two to be. After Kou is gone, Yui asks Ruki to hear her out and Ruki agrees.
There is another time skip and Yui is in her bedroom when Ruki suddenly barges in. He demands to know what she is doing and he reminds her that he had told her to stay put. Yui protests that she was only putting a book away, but Ruki tells her that she should've just asked him to help her, then tells her to go back to sleep. Yui comments on how Ruki is unusally worried for her then says that she feels a bit lonely. When Ruki asks why, Yui shyly replies that it's because he hasn't been touching her lately. He sighs and calls her an idiot, telling her that he's gotten used to enduring it in her current situation. Ruki starts to kiss Yui and asks her if they should stop doing these things when the child is born, because Yui is pregnant. He also comments on how he looks forward to their 'new addition' and he wonders whether he will love his child as much as he loves Yui. There is another time skip and Yui gives birth to a son called 'Adam'. The scene starts off with Yui angrily chasing her child down the hallway and reminding him not to run in the house. Adam apologises to Yui and tells her that the flower he grew has bloomed which impresses her. Ruki appears and tells the two that they're being too noisy. Adam shows Ruki the flower and Ruki praises him, then suggests that he replant it so it would grow more. Adam agrees and runs off, which annoys Yui. Ruki tells Yui to let Adam be and that he would watch over him from here onwards and that she should rest. The scene changes to the garden where Ruki is watching Adam replant his flower, but the boy gets cut in the process. Ruki tells Adam to lick his blood to stop it from bleeding, but his son tells him that the blood is gross which startles him.
That night, Ruki goes on the balcony and Yui joins him. When Ruki asks her about Adam, Yui tells him that he is asleep and she asks Ruki if he is alright. She tells him that when he's out there like that, she knows that something has happened, but Ruki tells her that it may be just his imagination. Yui suddenly tells Ruki that she can't keep hiding it anymore which confuses him. She asks him if he's realised it; Adam is a First Blood. This shocks Ruki and he asks Yui if she had known this all along. Yui explains that she only realised it when Adam licked her blood when she got a cut, and he told her it was disgusting. When Ruki doesn't say anything, Yui starts repeatedly apologising for giving birth to a First Blood, but Ruki tells her not to apologize; telling her that she and the child did nothing wrong and he hugs her. Adam calls him his father so he is the father, and Ruki reassures his love for Yui and their child and that nothing will change no matter what. There is a time skip and Adam greets Ruki's brothers, his uncles. Kou sighs that he quits being an uncle since he is still an idol, but Azusa tells him that it's inevitable. Adam asks Ruki if he can play with his uncles and Ruki tells him to go ahead and play as much as he like. This delights Adam and he tells Yuma to give him a piggyback. As Adam goes off with Yuma, Ruki shouts at Yuma to not get carried away then orders Yui to watch closely. Ruki returns to Kou and Azusa and they each insert their comments; Kou saying that Adam is lively and has parts of Ruki in him, while Azusa says that Adam resembles Yui a lot. Ruki agrees with Azusa and says that most boys usually resemble their mother. Kou tells Ruki not to look so down about that fact and that Adam might resemble him when he gets older which is something to look forward to.
The scene then changes to Ruki's room at night where Ruki is awake and Adam is sleeping. Ruki ponders over what kind of First Blood Adam will become when he grows up and begins to wonder if he'll still be able to protect Yui then. He calls himself ridiculous for being afraid of his own son, then wonders if he'll always feel like this with Adam, and would it be best if he stopped it right now. When Ruki sees his son's sleeping face, he realises that he won't be able to do it. In a flashback, Karlheinz tells Ruki that since he's chosen to be with Yui, he won't have any good luck from now on and he will live a misfortunate life which is impossible to stop. The flashback ends and Ruki finally realises that having a First Blood as a son is one of his misfortunes and that this is the fate of a person who no longer has any luck. He begins to laugh as though he has become mentally unstable which awakens Adam. Ruki apologises to his son for waking him and tells him to go back to sleep.
The next day, Adam takes Yui into the garden to show her his flower. Ruki follows behind them, reminding Adam not to run, or otherwise he would fall again. Adam shows Yui the flower he replanted happily saying that it grew a lot. Yui praises him and Adam tells her that he plans on giving all the flowers he grows to her. Adam suddenly asks Yui if he can marry her when he grows up which surprises her. He explains it's because he loves her so much, but Yui tells him that she already has Ruki. Adam agrees to wait for now and says that he will become stronger when he grows up. Ruki agrees that Adam would definitely be strong; second to none, and Yui tells her son to come with her to look at some flowers. As Yui and Adam leave, Ruki tells Adam to hurry up and to become strong, strong enough so that he can kill him in order to end his suffering. His fear is increasing every day and he tells Adam that he, not even the Founders are in the position to take Yui, only he is. He then says that when Yui goes to paradise, he will be the one to guide her there, because she is his only 'Eve'.
Heaven
No.01
No.02
No.03