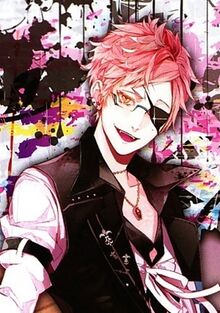 Dark
Prologue
No.01
No.02
No.03
No.04
No.05
No.06
No.07
No.08
No.09
No.10
Epilogue
Maniac
Prologue
No.01
No.02
No.03
No.04
No.05
No.06
No.07
No.08
No.09
No.10
Epilogue
Ecstasy
Prologue
No.01
No.02
No.03
Yui is in front of Shin's room's door and it seems like she's brought something he asked for. She is calling to him but there is no response and once she heard a sound inside, she let herself in. Shin is asleep on the sofa. She realized that it's the first time for her to see Shin sleeping like that and that he removes his glasses. She continues to observe him, even saying that he somehow has a cute sleeping face. Shin then wake up and tells her how daring she is to 'attack' him while he's asleep. She apologizes as she says that she never means it. He tells her that if she doesn't mean so, why did she do it as since he's sleeping, she's done quite a lot of things, doing as she pleases and even calling him cute. She realizes that he's heard that and asks if he's been awake all the time. He affirms saying that he is awake since before she enters the room. She asks why he'd pretend to be asleep and he answers that he wants to know what she'll do in such situation. He puts everything aside and tells her that she needs to be disciplined so to not do such things on him ever again. He approaches her and as she struggles, he asks her not to as he bites her and starts to drink her blood. She tells him that it hurts and he tells her that if she loses her consciousness without permission, he won't forgive her as he's not done with her yet. He continues to drink and she starts to apologize. He tells her that she means to apologize then she should have not done bad in the first place. She keeps her silence and thinks that when he was like a child when he was sleeping earlier and saying that, maybe she hasn't understood him yet.
No.04
No.05
No.06
No.07
No.08
No.09
No.10
Epilogue
Ending
No.01 - Vampire Ending
No.02 - Manservant Ending
No.03 - Brute Ending
Heaven
No.01
No.02
No.03
Ad blocker interference detected!
Wikia is a free-to-use site that makes money from advertising. We have a modified experience for viewers using ad blockers

Wikia is not accessible if you've made further modifications. Remove the custom ad blocker rule(s) and the page will load as expected.