Prologue
When Yui chooses Shū, he comments that it will be so troublesome. Ayato comments that Yui has weird taste for choosing Shū and Laito says that even though Shū is unmotivated, but he's actually pretty skilled. Yui thinks to herself that Shū is pretty unmotivated. But compared to others he looks most decent. Shū tells her that he will be very welcoming, if he doesn't need to do anything and that there will be delicious food delievered to his side (Because of Yui being his prey). After a few moments Shū tells Yui if she really wants him to suck her blood then she should help herself by extending her neck to him. Yui still thinks that he is unmotivated, though this might actually be better for her.
Dark
Prologue
Yui is in living room thinking that though she was forced into it, she is now accepting the fact the she has become a vampire's food and that it is a nightmare. Shū arrives and tells her to not be so much noisy. She asks him why is he still wearing uniform at night. He tells her that he's going to school right now. Yui gets confused and soon Reiji arrives who is also wearing a school uniform and she wonders why. Reiji tells Shū to get in the car because he doesn't want to be late because of him and orders Yui to change into her school uniform. Yui finally asks why they are wearing a school uniform at night. Reiji tells her that school starts now but Yui is still confused. Reiji tells her she has ten minutes to get ready and if she is late, they will leave without her. In the school corridor, a classmate calls to Yui and asks about her relationship to the Sakamaki brothers. They are extremely popular at school and the girl mistakes Yui for a lover of one of them. She also finds out that Shū usually skips class and goes to the music room. Yui decides not to go near it. But when she says that to herself, Laito appears and tries to get her to 'play' with him. Trying and looking for an escape, Yui runs and ends up in the Music Room.
In there, she finds Shū sleeping on the floor listening to music. He wakes up and tells her that she is being too noisy. Yui wonders why he is sleeping on floor. She tries to talk about something but can't think of anything to talk about. Shū tells her if she's going to be noisy, she should leave because he doesn't care about her. He tells her that he is different from his brothers. He has no interest in her or the Sakamaki household, so getting closer to him won't get her any power if that was what she is aiming for. Yui doesn't understand and tries to get him to explain but he's too lazy. Shū goes back to listening to his music and ignoring Yui. She leaves the room thinking that being around Shū will be safe and she can leave the household safely.
No.01
Yui and Shū are on the rooftop. Yui is thinking that she is constantly with Shū everyday, but as he is always listening to music she can't interact with him at all. She tries to start a conversation by asking Shū that if they are all vampires, they must be scared of garlic or sunlight or can turn into bats and that's why school is at night. Shū sighs and tells her that she is an idiot and explains those things can't kill him and he can't turn into a bat. Shū asks her not to bother him with pointless questions and Yui then apologizes. When the bell rings, Yui tells Shū that its time to go to class but she turns around to find Shū sleeping. She tries hard to wake him up but he tells her to leave because his favorite song is starting but Yui still tries to convince him. Shū finally agrees to go to class on one condition that Yui kisses him. Shū tells her if she doesn't kiss him then she can leave. Yui finally give in and kisses Shū on cheek, but he tells her that she is a bad kisser then leaves. Yui is shocked that Shū upheld the agreement and went to class even though he is different from others. She then runs to her class.
No.02
After a late night, Yui decides to take a bath. When she reaches the bathroom, she is thinking about which bath salt she should use but she suddenly hears music coming from the tub. When she checks it out, she sees Shū in the tub. She tries to wake him up but when he finally gets up he teases Yui and tells her that she looks like a devil. Yui protests and tells him not to sleep in water or he will drown. Yui then asks him why he didn't take off his clothes before bathing. Shū tells Yui that she is really a pervert who came with the hope of seeing him naked. Yui protests and tells him that she just came to take a bath and asks Shū to leave and take a bath in his own room. He ignores her and slips further into the water. Yui flinches and grabs his hand to pull him out, worried that he might drown. Shū teases her that she gets scared easily and tells her that even if he drowns, it has nothing to do with her. Yui gets worried and tells him that she chose him and that if he dies, then it will be a problem for her. After a minute, Shū asks her that if she wants him to live, she has to pull him out of water. Yui blushes when she see's him wet from head to toe. Seeing her reaction, Shū teases her again that she indeed came here with the hope of seeing him naked. Yui still denies it and Shū asks her if that's so, why is her face red. Instead of answering him, Yui thinks to herself how can she not blush when there is a freshly bathed man in front of her. Shū asks Yui if she is gonna attack him now but Yui denies it. Shū then leaves the bathroom. Before leaving, he teases Yui that she will be thinking about his naked body while bathing in his left over hot water. Yui blushes and asks Shū what he means but he leaves without saying anything.
No.03
Before going to sleep, Yui decides to go to the living room. She finds Shū lying on the couch and asks him why he is still awake but he doesn't answer. Yui gets disappointed because Shū is deeply lost in music so she finally shouts his name which makes Shū a little frustrated. Yui asks him what kind music he's listening to as he is very concentrated on it. Shū tells her if she wants to know it so badly why doesn't she try listening to it. Shū hands her one of his earbuds. Yui finds this very generous and thanks him but when she listens, she hears women moaning. Yui asks him what kind of music is this and Shū tells her that he finds that woman singing in ecstasy is just as good as any rondo by Stravinsky and her interests don't concern him. Shū asks her if she liked it, if she likes this kind of thing. Yui denies it and tells him that she is asking because this type of music is not available in stores. She asks if he bought it online. Shū chuckles and tells her she is interesting. Yui tells him that she is perfectly normal and its him who is weird. Shū tells her its silly to judge him on human standards. Yui decides to leave and says good night to Shū. Shū then laughs and Yui asks him whats wrong? Shū tells her that going to bed after listening to something like this would make her dream about it. Yui blushes and says it won't happen. Shū teases her and says that her face is red again which means he was right. Yui denies it, Shū smiles and then disappears.
No.04
Yui is reading a book in the living room. Reiji passes by and asks her what she is reading and she tells him that she borrowed this book from the library. She says that even though she can't understand it, she loved looking at the pictures. Reiji tells her that won't work because she can't even read German and he offers to be her tutor. Yui hesitantly rejects it because she thinks if she even made a slight mistake, he will whip her. She also adds that she chose Shū so it would be a bad idea if she spent time with anyone else but him. Yui looks at Shū for assurance but he is sleeping. Reiji scolds him for putting his feet on the sofa and tells him that he has no manners. Yui tells him that he is listening to music so he can't hear him. Reiji tells her that he is just making a fool out of himself and he feels sorry for Yui. Reiji tells her that things like Shū should be burned but he doesn't even want to touch him and would have to call someone to do that for him.
Yui then tries to wake up Shū, but Reiji tells that she is just wasting her energy. When she finally wakes him up, she shouts for him to put his feet down or something bad will happen. Shū doesn't listen so she repeats it again but before she can finishes her sentence, Shū leans toward her and tells her to warm him up. Yui blushes and tells her that Reiji is watching. Reiji tells him that his actions are shameless and commands him to let her go. Shū tells him that he doesn't want to and leans forward to kiss her. Shū asks Yui not to get angry or her blood pressure will rise. She tells him that she is not angry, she just wants to know why he suddenly kissed her. He tells her that because she chose him, he can do anything he wants and she can't reject him. Reiji then tells him that he is actions are filthy. He was raised wrong because he was too pampered in childhood and he is just disgusting. Shū tells him that he doesn't understand him so he tells him to get lost. Reiji tells him that he should find a place underground where no one can see him. Shū tells him that if he doesn't want to see him, he can just leave. Reiji says that he is useless but Yui finally breaks in and tell both of them to stop. She then wonders that maybe their relationship is the worst among all the other brothers.
No.05
Yui is in the church cleaning. She's getting a little worried about her father and wonders why he hasn't contacted her yet. While mopping the floor, she steps on something soft. She then hears a growl and realizes that she accidentally stepped on Shū's chest.
Yui ask him why he's sleeping in a church. Shū says that it is because this place is clean. Yui asks him that if he is a vampire, how can he get into a church and not be afraid of crosses. Shū tells her that it's just a myth. He then tells her that even though its not comfortable to sleep here, it's very quiet as no one comes here at this time. Shū then asks her to move her foot. He then tells Yui that he finally fell asleep when she woke him up. Yui apologizes to him. Shū says 'light blue' but Yui gets confused and asks what he means. Shū tells her that the color of her underwear is light blue. Yui blushes and asks him why he looked at her underwear. Shū doesn't answer her. Instead he asks why it isn't a thong and why she is dressed so innocently. Yui doesn't answer and him instead tells him to get up because he can't sleep in here because it's a place of prayer. He tells her he doesn't want to get up so Yui tries to make him stand up but Shū pulls her down and gets on top off her.
Yui asks him to get off her because he is heavy. He tells her to just let him look at her underwear because he wants to see if it suits her or not. She tells him to let her go but he tells her to stop making noises and if she wants to make noise, she should make some pleasant noises. He lifts up her skirt but Yui stops him and tells him that they are in the church, God is watching them. He tells her that God doesn't exists and its just something made up by humans. If he existed then creatures like vampires would never exist. Yui then tells him that she still believes in God and tells him to please stop touching her. Shū finally gets up, much to Yui's surprise, and she believes that he finally understood her. Shū then tells her that he is going back as he leaves. Yui wonders why she can't understand Shū's way of thinking.
No.06
In the dining room after finishing her food, Yui is going back to read something. Ayato approaches her and asks her to come with him and he'll make her feel good. She tells him that she won't come with him and that she chose Shū. Shū appears, and he tells Ayato that he can take Yui if he wants, since he seemed to be interested in his second hand goods. Ayato gets angry and punches him. Yui tries to stop Ayato but he doesn't stop. He tells Yui that she is a stinking woman, that he wouldn't even want to keep her even if she was gifted to him. Kanato interupts and says that Ayato is too rude, which makes Ayato angry. Laito soon comes and asks Yui to come play with him. Shū interrupts Laito and tells him that he is a pervert. He then asks all three of them to leave as they are too annoying. Kanato protests that he doesn't want to leave but Laito and Ayato drag him out.
Yui then notices that Shū hasn't eaten anything so she asks him why he hasn't. He tells her that its too bothersome to scope out food. Yui gets confused so she insists that he eat something or he will get weak. Shū finally gave up and tells Yui that if she wants him to eat so badly, she should feed him. Yui agrees and Shū comments that she is really strange. She starts to feed him soup but instead of taking soup, he bites Yui's finger. She asks him why he bit her finger and he tells her that her finger looked tastier than the soup. He is a vampire, humans are food for him. He asks Yui what will she feed him and she asks him what he wants. He teases her and asks how about her body. Yui blushes and asks him to not joke around. Shū laughs and Yui wonders if Shū is serious or just joking and wonders what his intentions are.
No.07
Yui had overslept and doesn't want to be late for school so she hurridly makes her way down the hall. There she meets Reiji and apologizes for being late. She looks at the car and sees everyone in there except Shū. She asks Reiji where is Shū. They were going to leave soon so what could he possibly be doing. Yui explains that if he missed classes then he would have to repeat another year. Reiji retorts that he deserves it. Yui says that he shouldn't be held back again. Reiji tells Yui that her soft heartedness will be her demise, its best that she don't involve herself with Shū. Yui doesnt want to make Shū angry, so she runs to her room to check. Reiji tries to stop her but she doesn't listen.
In Shū's room, Yui knocks the door and tells Shū to wake up but he doesn't respond. Yui knocks again but he still doesn't respond. She enters his room and finds him sleeping, as expected. Yui thinks if she doesn't wake him up, he will miss school. She asks him to wake up but he refuses. So Yui snatches away the blanket and Shū tells her that it is cold. Yui says that it doesn't matter and that it's time to go to school. Shū again tells her that he doesn't want to go to school, that he is not interested. Yui starts to tell Shū that if he doesn't wake up and go to school that he will be held back again, but before Yui can finish Shū starts laughing and tells her that her troubled expressions aren't bad. Shū pulls Yui toward him and tells her that she is very warm. Shū tells Yui if she wants him to go to school so badly, she should change him. Yui at first hesitates, but then finally agrees to help him. Yui asks Shū to stand up, Shū starts taking off his clothes and Yui stops him and asks him to at least wear his pants. Shū tells her to help him with his pants too, Yui blushes but finally agrees. Yui tries to avoid eye contact with Shū. He pulls her down and tells her this way she won't be able to avert her gaze. Yui tells him to stop. Shū tells her that she is like a butterfly no matter how much she tries she can't win against him. Then suddenly Shū starts sucking Yui's blood. Yui never thought he would bite her. After a moment Shū tells her to dress him up. Yui looks at him for a moment, and Shū says, "Hurry up you perverted woman." Yui then hurridly dresses him and wonders about what he is thinking.
Yui's Monologue: I have no idea what he's thinking… Since I met Shuu-san, I haven't been able to understand him. He goes through life without any interest. He has a dispirited aura. At the same time, he uses that icy cold hand to touch me. But he hasn't sucked my blood yet. Does he think there will there be a day where I voluntarily offer my blood to him? Or am I just a toy to him? He teases me, though I'll just be thrown away when I'm broken. That is my fate…
No.08
In the recreation room, Laito came up with an idea to have a dart competition since everyone is here. Laito asks Ayato to join too and he agrees and asks since they are having a competition they should also have a prize. Laito tells him that the prize will be Yui and that the winner can do anything he want to do with Yui since it's so boring that only Shū gets to do that. Yui asks Shū if he is playing as well but Shū doesn't answer her. Ayato then asks Shū to participate but Shū just tells him that its too bothersome. Reiji then tells Shū that the winner will take Yui away from him, but Shū says that he don't care. Reiji tells Shū that he is a coward who can't even make decisions for himself, he is good for nothing, and he has been pampered since he was a child. Shū doesn't say anything in reply, so Reiji tells Yui that he will win and take Yui away from Shū. As the five brothers almost start the game Shū gets up and tells them that he will participate too. Reiji tells him that he went back on his words and it looks like he doesn't want to lose her, but Shū just ignores him and asks to start the game.
The match begins and after some time Shū wins the competition. Ayato then asks for a rematch and tells Shū that he will definitely win but Shū tells him that he is being too noisy. He asks Yui to come to him and Shū pulls Yui toward him and tells her that she is emitting delicious scent today, and asks if she is excited because she was the prize. Yui denies this and wonders why Shū is acting so differently today. Reiji tells Shū to take his filthy hands away and to never shamelessly touch a girl. Shū tells Reiji that Yui is his possession and to get out of his way. Shū then rips Yui's clothes from her shoulder and Yui asks him is he doing. Shū tells her that it is obvious that it's his victory feast. Yui gets scared and tries to run away but Shū grabs her arm and tell her not to move unless she want something to hit her. Shū then bites Yui and tells her that her blood is very hot and he tells her that he understand why she was brought to them; it's because her blood is of the finest quality. Yui moans and Shū tells her that she is such a lewd woman as she is getting exciting and her body is burning up from a bite. Yui wonders why something like this is happening as she is bitten for the first time and her blood is being sucked.

Yui's Monologue: That was my first time. The nape of my neck was bitten, and my blood was sucked. I finally became…a vampire's meal. The days where I thought I could run away lost all their meaning. I gave up all hope…or at least that's what should have happened. But…why is it that having my blood sucked was a scorching feeling, and it made me feel a little excited? That was the beginning. The days where I enjoyed the feeling of canine teeth had begun.
No.09
Starts off in school with Yui saying she's not good with math, when her math teacher tells her to come over here. He asks Yui if she is was close with the Sakamaki's, including Shū. Yui replies with a yes, and the math teacher says he teaches Shū's class then says it's the eighth time he's skipped class, Yui replies with surprise, and the math teacher then continues, saying that Shū had usually been seen sleeping in the music room. Then he asks Yui on where he could be. Yui then thinks in her mind where Shū could be, the scene changes in the broadcasting room where Shū is on the floor sleeping, Yui says to herself in her mind the the broadcasting room is soundproof "so you can listen to music with your heart's content" then she says in her head again that "inside the school, the number of places he could be very small. Other than the roof or the music room Shū would be here". Then Yui wakes Shū up saying "why is it you again". Yui replies that the math teacher doesn't like Shū skipping classes.
Shū replies it's nothing to do with her and asks if is she some messenger whose only purpose is to say meaningless things like that. Yui replies that it's not meaningless, saying even the math teacher is worried about him repeating his grades. Shu then replies that she came all the way there for that, calling her a "goody two shoes". Yui replies that the math teacher asked her to tell Shū that, and the math teacher wants him to come to class. Shu then says is she ordering him around, Yui then say she's not ordering him around. Shu replies it's her business and then says he does not care and then says though, Yui echoes Shū, though. Shū says she does not learn her lesson, he then continuous, "since we live together, you know what treatment that you'll get right?" Shu then pushes Yui down when Yui asks what is he doing, but Shū continues, resulting in Yui's school uniform being ruined. She then theatens Shū that she'll scream, but Shu acknowledges Yui that this room is soundproof, making Yui not able to be noticed.
Shū then says that she's a brave girl for coming in here and then he kisses Yui. Shū then says if she wants to believe in God, do what she wants. He then says that he's going to play with her a little longer.
Yui's Monolouge: My clothes were messed up. Shuu-san kissed my exposed skin. And whispered in my ear in a low voice. But because I was trying to resist him, I had no idea what he was saying at all. In my trembling hand, I clutched onto the cross. My hands were even colder than Shuu-san's. But God didn't listen to my prayers help. Something that I always thought existed, Easily began to crumble. I bit my lip firmly, But I felt uncertain about the thing that used to be my support.
No.10
Epilogue
Maniac
Prologue
In the dinning hall during dinner, Ayato asks why there are no takoyaki made for dinner, Kanato says that he wants pistachio macarons, and Laito comments that macarons aren't bad, but chocolate cake is even better because the chocolate is very thick. Ayato tells them that they can't have sweets for dinner. Yui looks at Shū and asks him that why is he not eating anything. He says that its too bothersome and tells Yui that if she feed him, he will eat. Yui find no other choice so she feeds him. Yui tries to feed him another spoon but Shū stops her and tells that its enough, Yui says that if he didn't eat properly he will faint. He don't answer her and Yui asks him not to listen to music while eating he have to focus on eating.
Shū tells her that she is annoying and that he only asked her to feed him but she is over-doing it, and that she is doing this to satisfy her own desires. Reiji finally interrupts and asks Yui that what is she doing. She explains that she is helping Shū eat properly as he keeps complaining its too bothersome. Reiji then turns to Shū and asks if he told Yui that Shū went too far as to feed him and he have no rights to say that. Shū replies that he didn't said anything she made herself believe that he needed food. Reiji asks Yui if its true. Yui simply replies that everyone was eating food so she thought that it was necessary.
Reiji sighs and Subaru comments that she is an idiot and that they are vampires and don't need human food. Reiji tells that they only need blood not human food. Shū comments that it was obvious and Yui says that she didn't know. Reiji says that as Shū didn't informed her its mostly his fault but however the blame is on her too as she knew that they are vampires and suck blood why would they need human food. Yui says that it was Shū's fault for not telling her. Shū tells that he didn't needed to tell her she was just doing what she wanted to do and now she is pushing blame on him and she have no moral character. Yui says that he just said that he didn't need anything, Shū doesn't respond and starts listening to music again. Yui thinks about for how long she is going to be made fun of by him and if he keeps going on like that will she ever be released.
No.01
No.02
No.03
No.04
No.05
No.06
No.07
No.08
No.09
No.10
Epilogue
Ecstasy
Prologue
No.01
No.02
No.03
No.04
No.05
No.06
No.07
No.08
No.09
No.10
Epilogue
Ending
No.01 - Vampire Ending
Shū and Yui decide to abandon the vampires and live elsewhere. He only needs her blood so they plan to go someplace without other vampires and there won't be risk of them getting caught. For money, Shū decides to sell an old necklace passed down from his mother which is worth enough money to last them 100 years. And so they live happily in the woods.
No.02 - Manservant Ending
Reiji goes insane with jealousy over Shū and says that Shu's taking everything away from him . He then decides that the only way to solve this problem is to kill Yui and runs after her with a sword. He kills her and then Shū runs up and finds her dying and cries over her body. Just then Reiji tells Shū that he burned down Edgar's village. Shū gets extremely angry and kills Reiji then cries over Yui's body. Suddenly he hears her heart beat so he gives her some of his blood to drink and revives her – as she has now awakened her vampire self. A year later he becomes the Vampire King and kills his dad & uncle. The other brothers decide not go against him.
No.03 - Brute Ending
Shū found Reiji's diary from 10 years ago, where he said that he's the one who burned down Edgar's village. They go outside on the balcony to have a sword fight and even though Shū stabs Reiji, Yui runs to him and asks if he is alright Shū tells her that she is terrible as a person (Reiji) just died in front of her but she is acting like its nothing. Yui than tells Shū that she only worries about him not anyone else. Just then when he is not paying attention, Reiji manages to get up and stab Shū and the two of them die. The other four brothers decide to share Yui among themselves and leave for school before leaving Laito tells her to clean up the corpses and leaves Yui alone, she then cries in despair over Shū's body.
Heaven
Prologue
Yui is asleep and she hears Shū say something about "I love you AND…". She wakes up and asks him about it and he claims that she didn't hear anything. They talk about how Yui is willing to stay by Shu's side, despite all the things that had happened to her. He wonders why she didn't run away. She says that it's because Shu is here and that she couldn't even run away if she wanted to. Shū mentioned that even if she did run away, she would be caught and tortured by the boys just enough so that she'll never be able to move again (she's a sacrifice given to the Sakamaki family by the church). Yui is shocked but is happy that she didn't decide to run away.
No.01
Reiji is jealous of Yui's affection towards Shū and takes her to his room. When they get there, he whips her. Shū comes in and saves her, but gets angry about why Yui was in Reiji's room in the first place. Yui notices that the way that he sucks her blood is now different. She notices that when he usually fed on her, she felt excited, instead of being harmed. However, now it feels as though Shū is drinking her blood in frustration.
No.02
*Scene switches to school rooftop* Shū asks Yui, if she's trying to get him to attend class. Yui says that she wouldn't bother anymore, She says that Shu is the complete opposite of Reiji, She says that even though Shu goes to school, he doesn't learn anything. Shū complains that Reiji is like a buisiness man; uptight and serious. She says that he'd rather relax and enjoy his life. He teases Yui and asks her if she would rather sit at a hard desk in class and waste time or stay with him. She agrees to stay and kisses him. Teasing her again, he invites her to sit on his lap. She does while commenting on how new this feels: Being able to look down at him, and her desire to wrap her arms around his neck. They then make love together.  
No.03
Yui tells Shū that she's getting bored. She asks him if he knows of anything interesting. He replies and says that he prefers peacefulness. Laito enters and asks if anyone is there. Shū allows Laito to suck Yui's blood. She, shocked, protests to Shū that he said he'd protect her and that she only wanted Shu to suck her blood. Even still, he remains unbothered. Shu says that he was right to think that she was bored.
Laito agrees, and continues to suck her blood. Eventually, Shu puts a stop to it. Grabbing her, he makes love to Yui right infront of Laito, Laito watches them instead of leaving. 
Epilogue
Yui, driven by conflicted emotions sits in the church. She apologizes to God; yet feels torn between serving God and being with Shu. She confesses that she doesn't feel regret. Yui removes her rosary cross neclace and tells God verbally, that she is going to leave it here. Shu enters, and asks her what she's doing. 
Shamelessly, she explains to him that as long as she's with him, she doesn't care if she goes to Hell and looses everything. Shu confesses to her, that after his friend died, he could never think of the future. But now, he can. He also explains to her, that is the very reason he acts so lazy. Why work for something and wonder about the future, if it's all just going to disappear? Having her, and seeing her determination to be with him has softend his heart. Now he wonders, what will I do for the sake of Yui's future?
Prologue
Dark
Prologue
No.01
Having forgotten her textbook in the classroom, Yui hurries to retrieve it before the next class. On the way, she encounters Shu and two female students. One girl offers Shu her phone number, while another offers to let him cheat off her homework. He brushes the girls off. Yui listens as they voice their displeasure that Shu may be handsome, but he's also aloof. There's not enough time for Yui to fetch her textbook, so she heads to her next class. After class, Ayato tries to get some of her blood, but Yui flees and again goes to find her lost textbook. 
In the music room, she encounters Shu. She tries to talk to him, but he takes his time to respond. He says he's not interested in doing her the favor of talking with her, and brushes off her concerns that they'll be late going home.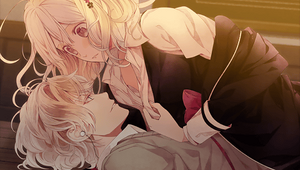 She continues trying to get him to leave with the rest of the Sakamaki family, so he grabs her. Shu tells her to just ask him to suck her blood already, then touches her and calls her lewd for reacting to him. If she wants him to leave, she must offer something valuable: her blood. Yui realizes she has no other option, so she unbuttons her shirt and gives Shu access to her blood. As he drinks, he tells her to stay silent and submit until her willpower disappears. 
No.02
No.03
No.04
No.05
No.06
No.07
No.08
No.09
No.10
Epilogue
Maniac
Prologue
No.01
No.02
No.03
No.04
No.05
No.06
No.07
No.08
No.09
No.10
Epilogue
Ecstasy
Prologue
No.01
No.02
No.03
No.04
No.05
No.06
No.07
No.08
No.09
No.10
Epilogue
Ending
No.01 - Vampire Ending
After leaving Yui in Yuma's care in the Mukami household Shū leaves Yui; who start feeling lonely without Shū, Yuma notices this and thinks the only way to bring Shū back is by burning the Mukami house, during the fire Shū comes running to find Yui and starts to worry that she might be dead, but Yuma took her to a safe place before starting the fire. When Shū arrives there Yuma reunites Yui with Shū and they both confess their love to each other once again. Shortly after, Yui and Shū decide to leave the residence and run away together to spend rest of their lives living with each other. They have some loving moments and after that they cut off all the ties with the Sakamaki household.
No.02 - Manservant Ending
No.03 - Brute Ending
Yuma disappears, and Shū devotes his life to finding Yuma, even to the point of neglecting Yui. In despair, she finds it hard to cope. She lies to Shū, and tells him she found Yuma. Shū follows her. Yui locks him up in the underground, eventually stabbing him.
Heaven
No.01
No.02
No.03
Chapter 1
Chapter 2
Chapter 3
Chapter 4
Sleeping Vampire
Dark
Prologue
No.01
No.02
No.03
No.04
No.05
No.06
No.07
No.08
No.09
No.10
Epilogue
Maniac
Prologue
No.01
No.02
No.03
No.04
No.05
No.06
No.07
No.08
No.09
No.10
Epilogue
Ecstasy
Prologue
No.01
No.02
No.03
No.04
No.05
No.06
No.07
No.08
No.09
No.10
Epilogue
Ending
No.01 - Vampire Ending
No.02 - Manservant Ending
No.03 - Brute Ending
Heaven
No.01
No.02
No.03
Ad blocker interference detected!
Wikia is a free-to-use site that makes money from advertising. We have a modified experience for viewers using ad blockers

Wikia is not accessible if you've made further modifications. Remove the custom ad blocker rule(s) and the page will load as expected.